Business Services
Our Weather Alerts for Business service offers reliable severe weather alerts to organizations large & small across the country.
Reliable
Redundant, reliable platform. In operation for over 10 years.
Fast
Alerts sent within 20 seconds (or less!) from processing to delivery.
Precise
Monitor for alerts down to the street address, or by ZIP code, county, or advanced geographic parameters. Fully geospatially-aware.
Multi-Format
Receive alerts by text message, e-mail, automated voice call, app notification, Slack (beta), and more.
Filter Alert Types
Only receive the types of alerts you need. Choose from over 30 alert triggers from severe and winter weather to tropical storms.
Set Quiet Times
Only receive alerts when you need them. Great for limiting to shifts or work hours.
Unlimited Locations
Monitor one location or thousands. We bill by users, and don't charge for each message unlike other services.
Named Locations
Set aliases for physical sites, facilities, store numbers, or other identifiers (e.g. "Distribution #0125"). We'll include them with each message in a list of impacted sites.
Map Snapshots
Severe alert e-mails include a live radar map of the warned area and your location(s).
Tropical cyclone alerts
Receive our text or email updates as soon as tropical storms strengthen.
Web-Based Control
Manage your account users and alert triggers online.
Push Alerts
Receive alerts through our Push or Pull APIs in JSON format. Supports ZeroMQ and REST.
White-Label Alerting Solutions
Fully Branded
Use our platform with your logo, branding, and domain name. Use a fully customized e-mail template, display affected company facility names, send from custom e-mail addresses or set up your own shortcode to broadcast alerts.
Provide a value-added service to your customers, operating on our reliable alerting platform and network without having to build out your own technology.
Customer-Controlled
Allow your employees, clients, or customers to configure their own alerts through your website or CRM, or via our web embeds.
Real-Time Embeds
Add our customizable alert widgets to your website or intranet, showing only alerts that are affecting your locations or facilities. Weather maps with radar and other features can be displayed in the embed.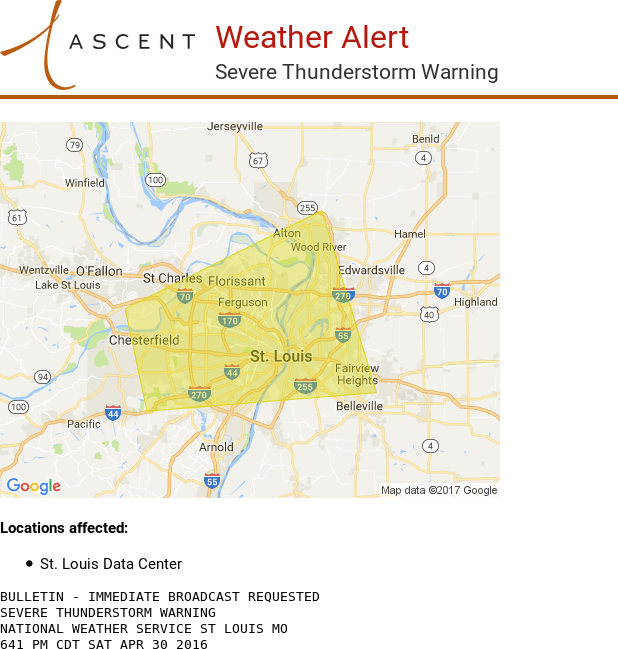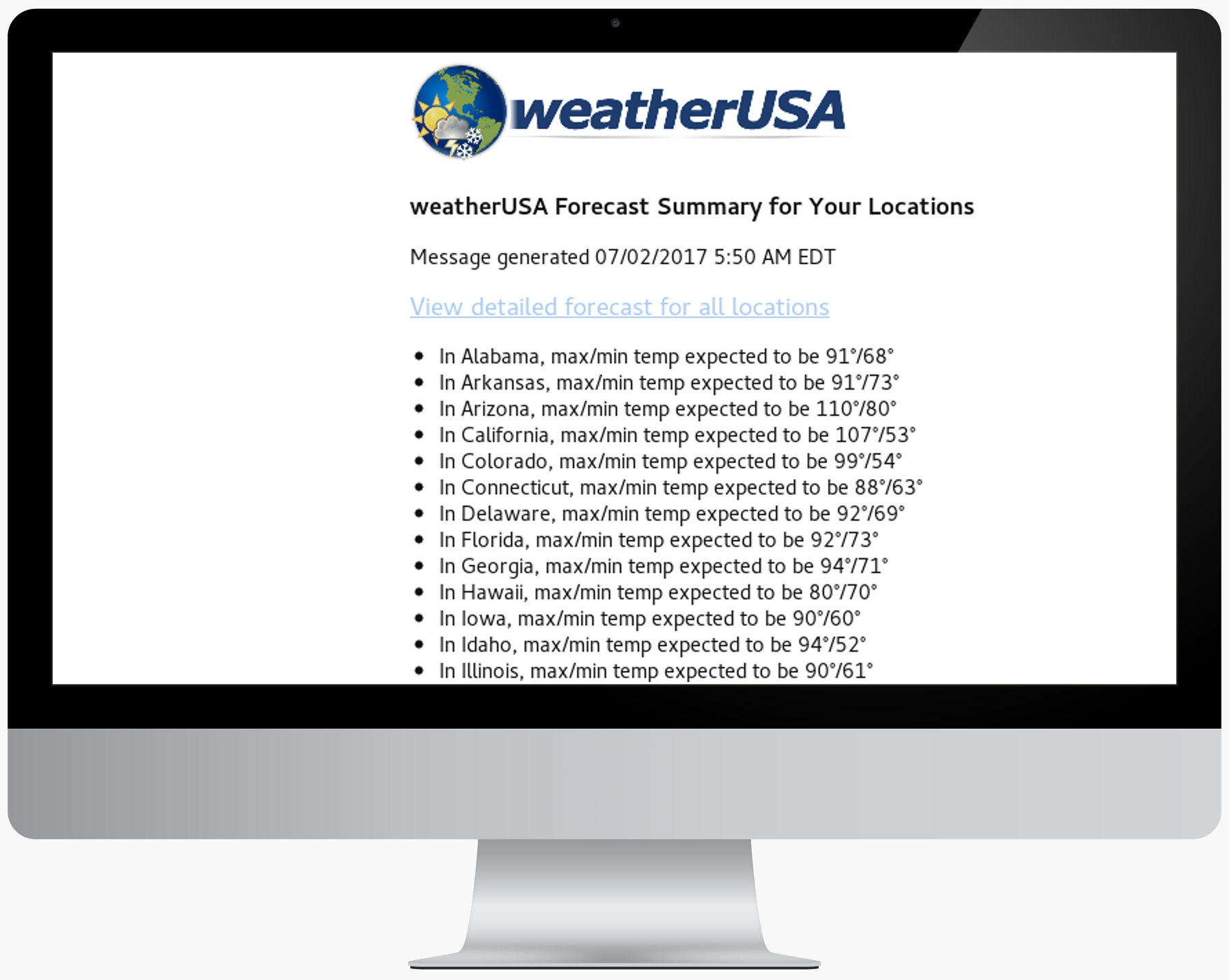 Fully Customized and scheduled alerts
Work with our staff to get alerts customized to your needs
Your team would be able to view a report sent at the same time everyday.
Alerts sent based on forecast condtions
Receive alerts for forecasted events, including high/low temperature, precipitation, high winds, snow, ice accumulation, and air quality ranges. Or, monitor nearby weather observations to trigger an alert on high/low temperature or heat index reached, high wind recorded, and more.

WeatherNet Aware
Integrated web map application with:

Observations
Hi-Def Radar
Weather alert areas
SkyCams — Largest database of weather cameras in the US (operated by partners, TV stations, weather enthusiasts), monitored daily and archived every 20 minutes
Tropical cyclone tracks
Advanced information such as mesoscale discussions
Storm reports

Asset integration

Display and add assets (facilities, personnel, equipment, clients) to your map and set alerts for assets
View Impact ratings for assets
View custom data for each asset – forecasts, precipitation, active alerts, and more
Generate custom reports of historical weather for assets
Contact us for more information on the following:
Batch forecasts
Targeted forecasting for industry: transportation & logistics routes, forecast conditions, wind and temperature forecasting
Time and location based forecasts for events (outdoor events, concerts, etc.)
On-call meteorologists by live chat, e-mail, or phone for your organization
User-Friendly Mobile Apps
Push notification severe weather alerts
Ultra-fast and reliable alerts from the National Weather Service and weatherUSA
Current weather conditions from a network of 80,000+ weather stations
Set of list of favorite weather locations.
Daily and hourly forecasts
Nearby SkyCams (outdoor cameras)
Monitor traffic and sky conditions near you.
Weather API
Live weather observations
Observation history – summaries by location
Current weather conditions from a network of 80,000+ weather stations
Weather alerts (JSON feeds, ZeroMQ push)
Places database (US Cities, ZIP codes)
Hourly & daily forecasts
Skycams
Health data (e.g. air quality, uv index, pollen count)
Subscribe new users and update existing subscribers for white-label alerts